People
Dr Charlene Rodrigues
Post-doctoral Clinical Fellow
Paediatric Infectious Diseases Specialist
Image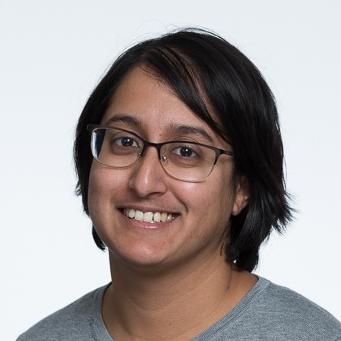 Biography
I am a clinician specialising in Paediatric Infectious Diseases and trained in the UK. I undertook a Wellcome Trust funded DPhil (2015-18), supervised by Profs. Martin Maiden and Chris Tang (Dunn School of Pathology) in genomic epidemiology of meningococcal disease in the UK using Meningitis Research Foundation Meningococcal Genome Library. The focus of my DPhil was to develop scalable genomic methods to study the diversity and distribution of meningococcal protein-based vaccine antigens and how this can inform vaccine strategy. I am now interested in developing applications that aid translation of genomic data for use in the clinical setting, in particular for non-genomics specialists. An example of such work includes a genomic based application to assess MenB vaccines for deployment in public health settings, the MenDeVAR Index. 
Research interests 
Genomics is making increasing contributions to infectious diseases and microbiology. Infection caused by Neisseria meningitidis serves as a useful disease model (carriage, vaccination, recognising clinical signs, optimal treatment of sepsis), as well as an important paediatric infection with significant morbidity and mortality in the UK and globally. My training and experience in microbial genomics has allowed me to combine my interests in infectious diseases, microbiology, public health, and vaccinology, to address important clinical questions in the prevention and management of other childhood infections, including Klebsiella pneumoniae. With collaborators in research institutes and public health reference laboratories globally, our work impacts children and young people in many settings. 
Teaching
Having received formal training in microbial genomics I am enthusiastic about contributing to transferring this knowledge and experience to clinical and non-clinical colleagues, particularly where it helps inform patient care ad clinical decision-making. I am a course instructor on the Wellcome Trust Advanced Course for "Genomics and Clinical Microbiology" and teach on the MSc in Genomics at St George's University, London. 
Experience 
I graduated from Leicester University medical school in 2007 having also completed an Intercalated BSc in breast cancer pathology. 
On completion of the Academic Foundation Programme, I entered paediatric training in London as an NIHR Academic Clinical Fellow at Imperial College London.  
I completed core registrar training and obtained a GRID sub-specialty infectious diseases, immunology and allergy training post in Newcastle upon Tyne in September 2014. 
I trained in microbiology for 6 months following my DPhil, alongside adult ID and microbiology colleagues at St George's Hospital, London. 
I obtained CCT in paediatrics and subspecialty infectious diseases, immunology and allergy in February 2019. 
I spend part of my time as a Paediatric Infectious Diseases Consultant in London.
Publications
(2021) Tzanakaki G, Xirogianni A, Tsitsika A, Clark SA, Kesanopoulos K, Bratcher HB, Papandreou A, Rodrigues CMC, Maiden MCJ, Borrow R, Tsolia M. Estimated strain coverage of serogroup B meningococcal vaccines: A retrospective study for disease and carrier strains in Greece (2010-2017). Vaccine. 2021 Mar 12;39(11):1621-1630. doi: 10.1016/j.vaccine.2021.01.073.
(2021) MacLennan JM, Rodrigues CMC, Bratcher HB, Lekshmi A, Finn A, Oliver J, Wootton M, Ray S, Cameron C, Smith A, Heath PT, Bartolf A, Nolan T, Hughes S, Varghese A, Snape MD, Sewell R, Cunningham R, Stolton A, Kay C, Palmer K, Baxter D, Suggitt D, Zipitis CS, Pemberton N, Jolley KA, Bray JE, Harrison OB, Ladhani SN, Pollard AJ, Borrow R, Gray SJ, Trotter C, Maiden MCJ. Meningococcal carriage in periods of high and low invasive meningococcal disease incidence in the UK: comparison of UKMenCar1-4 cross-sectional survey results. Lancet Infectious Diseases. 2021 Jan 19:S1473-3099(20)30842-2. doi: 10.1016/S1473-3099(20)30842-2. 
(2020) Rodrigues CMC, Jolley KA, Smith A, Cameron JC, Feavers IM, Maiden MCJ. Meningococcal Deduced Vaccine Antigen Reactivity (MenDeVAR) Index: a Rapid and Accessible Tool that Exploits Genomic Data in Public Health and Clinical Microbiology Applications. J Clin Microbiol. 2020 Oct 14:JCM.02161-20. doi: 10.1128/JCM.02161-20.
(2020) Rodrigues CMC and Plotkin SA. Impact of Vaccines on Human, Health; Health, Economic and Social Perspectives. Frontiers in Microbiology 2020 11:1526.  
(2020) Rodgers, E., Bentley, S. D., Borrow, R., Bratcher, H. B., Brisse, S., Brueggemann, A. B., Caugant, D. A., Findlow, J., Fox, L., Glennie, L., Harrison, L. H., Harrison, O. B., Heyderman, R. S., van Rensburg, M. J., Jolley, K. A., Kwambana-Adams, B., Ladhani, S., LaForce, M., Levin, M., Lucidarme, J., MacAlisdair N., MacLennan J., Maiden MCJ., Maynard-Smith L., Muzzi A., Oster P., Rodrigues CMC., Ronveaux O., Serino L., Smoth V., van der Ende A., Vazquez J., Wang X., Yezli S., Stuart, J. M. (2020). The global meningitis genome partnership. Journal of infection, S0163-4453(20)30446-1. 
(2019) Bratcher HB, Rodrigues CMC, Finn A, Wootton M, Cameron JC, Smith A, Heath P, Ladhani S, Snape MD, Pollard AJ, Cunningham R, Borrow R, Trotter C, Gray SJ, Maiden MCJ, MacLennan JM. UKMenCar4: A cross-sectional survey of asymptomatic meningococcal carriage amongst UK adolescents at a period of low invasive meningococcal disease incidence. Version 2. Wellcome Open Res. 2019 Oct 28 [revised 2019 Jan 1];4:118. 
(2019) Rodrigues CMC, Handy L, Plotkin S. Vaccine Innovation and Development, Maxey-Rosenau-Last Public Health and Preventive Medicine. In press. 
(2018) Rodrigues CMC, Chan H, Vipond C, Jolley K, Harrison OB, Wheeler J, Whiting G, Feavers IM and Maiden MCJ Typing complex meningococcal vaccines to understand diversity and population structure of key vaccine antigens. Wellcome Open Research. 2018 Nov 29;3:151.  
(2018) Chen M, Rodrigues CMC, Harrison OB, Zhang C, Tan T, Chen J, Zhang X, Chen M, Maiden MCJ. Invasive meningococcal disease in Shanghai, China from 1950 to 2016: implications for serogroup B vaccine implementation. Scientific Reports. 2018 Aug 17;8(1):12334.  
(2018) Rodrigues CMCand Maiden MCJ. A world without bacterial meningitis: how genomic epidemiology can inform vaccination strategy. F1000Research. 2018 Mar 27;7:401.   
(2018) Rodrigues CMC, Lucidarme J, Borrow R, Smith A, Cameron JC, Moxon ER, Maiden MCJ. Genomic Surveillance of 4CMenB Vaccine Antigenic Variants among Disease-Causing Neisseria meningitidis Isolates, United Kingdom, 2010-2016. Emerging Infectious Diseases. 2018 Apr;24(4):673-682. 
Books: 
Rodrigues CMC, Handy L, Plotkin S. Vaccine Innovation and Development, Maxey-Rosenau-Last Public Health and Preventive Medicine. In pres  
Podcast: 
http://www.scienceforthepeople.ca/episodes/meningitis